9 Industries That Can Benefit From Operations Software.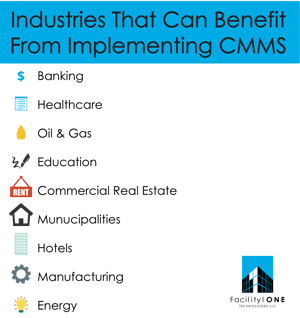 Computerized maintenance management software (CMMS) is a no-brainer for many industries — machinery, power plants, construction companies and other asset-heavy fields use this software to schedule maintenance for their equipment. But did you know that almost every industry that has physical assets can utilize a system with CMMS capability? Here are some industries that can benefit from CMMS that might surprise you:

Healthcare
Do you want healthy patients? Then you have to keep your facility healthy too. CMMS for healthcare is a rapidly expanding industry, and it's easy to see why. CMMS helps hospitals and other large medical facilities run smoothly. Preventive maintenance helps users prevent costly (not to mention dangerous!) equipment breakdown, and predictive maintenance improves the ROI of both the software and the equipment it manages. Not to mention the benefits of reporting discrepancies through Joint Commission inspections and DNV surveys. And if your operations system can integrate with companies like Sentact, that's a real bonus!
Commercial Real Estate

Malls, office buildings and other commercial real estate spaces have a range of maintenance needs that can easily become overwhelming if not managed correctly. Commercial real estate CMMS offers detailed work order management that helps keep technicians on task. It also keeps those work orders in a detailed record of past maintenance. This makes it easy to quickly assess whether a problem has been recently addressed and can help managers identify potential issues — for example a leak that was just fixed and is already leaking again could be symptomatic of a more serious problem. Other offerings should include:
Data and asset mapping.

Portfolio wide visual analytics and reporting tools.

Customized preventative maintenance schedules.

Risk

mitigation.

Banking
A key tenet of CMMS is the detailed records it allows managers to keep. Banks are under constant scrutiny, and maintaining secure, safe facilities is key.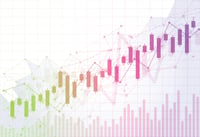 CMMS can help this endeavor through its facility management features. For example, it lets users keep detailed logs of who has access to what spaces from cleaning and maintenance crews to location managers.
CMMS can also save you money — from automatic door motors to lighting, users can use operations software to track when equipment was installed and last maintained in order to perform routine maintenance and replace them at the end of their life-cycle. This saves you money by increasing the lifespan of basic location equipment and makes your business seem more professional by avoiding embarrassing light flickering, door outages, teller malfunctions and more.
Oil & Gas
Oil rigs and wellheads are delicate, asset-heavy environments. Maintaining the many intricate moving parts and tracking repairs can be a stressful process. CMMS offers a strictly organized process for managing these maintenance activities to keep your workers safe and your equipment in tip-top shape. You can also more easily implement security measures such as site check-in and audit trails to keep your company safe.
Education
School buildings — especially sprawling college campuses or large secondary schools — have unique maintenance needs. CMMS for education can expertly deliver the solutions to these needs. For example, a robust maintenance team is easy to delegate with a robust operations system with CMMS capability: users can assign specific tasks to individual technicians for completion, and techs can mark work orders completed (or move them to the next tier of management) on the go with mobile CMMS. On average, operations systems like FacilityONE can save a technician 6 minutes per work order by streamlining the process and utilizing an on-the-fly work order creation system.

Municipalities and Governments
Does any industry have a more sprawling job than government? Cities can use CMMS to track every problem from potholes to downed trees to graffiti. Even better, users can assign priorities to these different issues — a malfunctioning stoplight is a more pressing issue than litter in the park, but both should be taken care of. CMMS helps users prioritize and organize the huge amount of responsibilities.
Hotels & Casinos
Hotels & casinos involve an incredible amount of upkeep, and CMMS can make that task a little bit smoother. Even if you use other software to manage occupancy, new integration options mean you shouldn't have to settle on occupancy and housekeeping software to manage your asset and facility work orders. A robust facility operations system with CMMS capability is a powerful tool in the hands of your managers. It can also help maintain security by ensuring that all janitorial staff and maintenance workers sign in to work orders. This can help prevent theft and unauthorized room access.
Manufacturing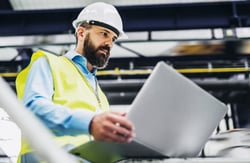 It should be no surprise that manufacturing facilities can benefit from a computerized maintenance management program. As one of the most asset-intensive industries, manufacturing can use CMMS to maintain equipment and perform routine preventive maintenance in order to keep assets functioning at peak performance for as long as possible. This saves money on repairs and replacements as well as unplanned asset downtime.
Energy Plants
Power generation facilities can see many of the same benefits as manufacturing. By ensuring that equipment involved in power delivery is adequately maintained, it can prevent unexpected power outages or surges. CMMS offers facility management features that help users track costs, predict failures and improve the efficiency of their operations.
While these industries can all benefit significantly from implementing a CMMS solution, there are very few asset-intensive industries that can't say the same. CMMS software helps organizations of all sizes and kinds improve their work order management and streamline maintenance tasks in order to optimize their operation efficiency and standardize preventive maintenance.